French fries, hamburgers and steaks are what many associate with American cuisine.
In fact, US national dishes are much more diverse, and in almost every state there are several original culinary masterpieces that are worth getting to know better. We have compiled a list of 15 American dishes for you that will surprise and delight you with taste.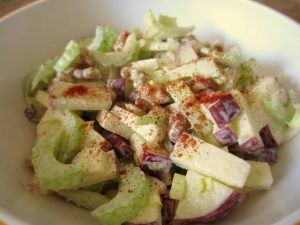 waldorf salad
This salad is made with sweet and sour apples, walnuts, and celery, dressed with a mixture of mayonnaise, lemon juice, and cayenne pepper. He first appeared in a restaurant at the New York Waldorf-Astoria Hotel, hence the name. The dish was liked by the visitors of the restaurant and soon spread throughout the country, and the recipe became a classic. Now Waldorf salad sometimes uses other types of nuts instead of walnuts, raisins or fresh grapes are also added.
Chicago-style deep pizza
Of course, this recipe was brought to America by Italian immigrants. Over time, he became very popular, and in Chicago he generally took root as a visiting card of the city. It was first introduced to the public in 1943 at the Chicago pizzeria Pizzeria Uno. This pizza pie is prepared with different toppings, and its main ingredient is mozzarella cheese and spicy tomato sauce. And they bake such a pizza in a deep form, spreading the filling on the dough, pouring sauce and sprinkling a thick layer of mozzarella on top.
Corn porridge with shrimps and arugula
A dish originally from South Carolina. This is a classic of the coastal regions of the American South. The combination of soft and tender corn porridge with a lot of butter and grated cheese with shrimp and herbs is incredibly tasty and satisfying, in the spirit of rustic food. Usually this dish is served for breakfast. In South Carolina, by the way, an annual cornmeal festival is held.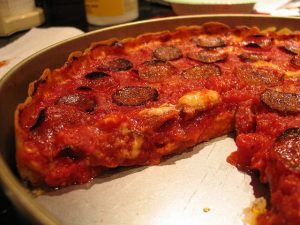 Gumbo (gumbo)
This dish is common in Louisiana. This soup is more like a stew in texture and is made from seafood, vegetables, meat and ham. The thick and spicy soup is often served with boiled rice. There are many recipes for this dish; shrimp, oysters and crabs, as well as chicken, turkey or pork can serve as meat. Mandatory Creole seasoning sassafras and flour frying. Gumbo has a rich taste and is very satisfying.
cobb salad
The famous salad was invented by the owner of the Hollywood Brown Derby restaurant named Robert Howard Cobb. One day, very hungry, he went to his restaurant and began to look for something to eat. On his plate, he put pieces of boiled chicken breast, avocado, garlic, celery, tomatoes, cheddar cheese, eggs and lettuce. A French sauce based on olive oil and mustard served as a dressing. The dish turned out hearty and tasty, so the cobb salad could soon be tried in many restaurants in America.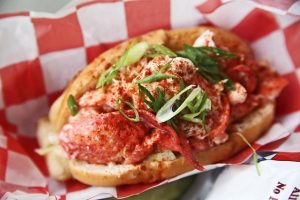 Boston lobster roll
This lobster roll is very popular during the summer as it is a cold appetizer and has a pleasant and refreshing taste. According to www.usa.one. Actually, it's like a hot dog, but instead of sausage – lobster. Rumor has it that this has happened since ancient times, when there were so many lobsters in the Boston area that even prisoners were fed them. Since then, they began to put lobster salad inside crispy fresh buns on green leaves and sell it as a Boston roll.