Chi's main gastronomic feature is deep dish pizza, famous for its amazing toppings.
Cornbread is fried in olive oil and topped with cheese, tomato sauce, meat and other toppings. Such pizza can be found in almost every pizzeria in the city. It is large, tasty and satisfying, so you can order it for a large company.
While in the USA, you can't help but try the local steaks, and for dessert we advise you to order a classic cheesecake – whatever one may say, but in America they make it best.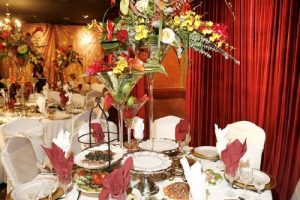 And besides, they say that in Chicago you can try the most delicious hot dogs. We recommend the "garden" version of this delicious and uncomplicated dish. In addition to traditional buns and sausages, it includes peppers, tomatoes, pickles, onions, celery and mustard.
In general, in Chicago, you can try any cuisine in the world – Italian, French, Mexican and even Ukrainian.
Traditional American cuisine does not favor culinary "troubles". Here they like to eat hearty, fast and inexpensive. Therefore, fast food "rules". But you didn't come to the US to go to McDonald's, did you? This can be done at home too. Here are five great affordable restaurants in Chicago that will serve you good "fast" food.
Portillo's Hot Dogs in the Gold Coast, near Lake Michigan. Classic roadside restaurant in the spirit of the 1950s. Mind-blowing sausages in dough with various sauces and seasonings are served here.
Phil's Pizza in Bridgeport.
Great place for a family vacation. This Chicago restaurant has garnered rave reviews from all pizza lovers. She is special here. Why? Stop by Phil's Pizza and find out! We will not reveal all the secrets.
The Garden Café in the building of the Museum of Art. One of the best self-service cafes in Chicago. You can order ready-made meals or choose a specific set of products from which something delicious will be prepared for you right away.
Awake with Pearl Coffee at the South Loop Hotel. Prices in this cafe in Chicago are the most affordable. Another confirmation of this is the mass of locals hurrying here for breakfast or lunch. Order fish sandwiches, pancakes with maple sauce and eggs with bacon.
BIG & little's at Mount Greenwood. The signature dish of this Chicago restaurant is baked fish and chips. But many also recommend trying fish tacos and seafood sandwiches.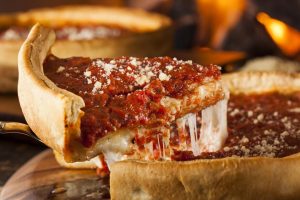 Tired of fast food and want to dine in one of the best restaurants in Chicago with European cuisine? Go to Alinea. This place is one of the ten most expensive restaurants in the United States. No wonder, because Grant Achatz himself, one of the best chefs in the world, prepares dishes for guests. Prices in this Chicago restaurant are exorbitant: one appetizer alone will cost 200 USD.
Did you miss borscht, Russian salad and dumplings? Go to Russian restaurants in Chicago. The best ones are located in the Ukrainian Village area.
A very important rule of good manners: in every restaurant, cafe and bar in Chicago, it is customary to leave a tip – 15-25% of the total order value. If you are paying by credit card, enter the amount of tip you want to leave in the "tips" box. It will be credited to the total amount and removed from the card.
The bartender needs to be given 1 USD for each ordered drink. And if he brought you a cocktail from an institution as a gift, leave half of its value as a "tea".