Mexican cuisine is distinguished by its originality and rich tastes.
It is characterized by the widespread use of spices, hot peppers, herbs. The basis for many dishes are tortillas made from corn and/or wheat flour.
Food in Mexico has a rich taste and is popular not only in America, but all over the world. If you are going to this overseas country, you should explore the top dishes that are worth trying.
Tacos (tacos)
This dish is a corn or wheat tortilla stuffed with pieces of beef or ground beef, legumes, herbs, and tomatoes. In principle, the filling can be anything: with fish, vegetables, mushrooms, cheese, pieces of squid, guacamole, chorizo ​​are added to the most exotic options – today there are many variants of this national dish.
Tacos are served in different ways: either the filling is wrapped in a freshly baked tortilla and complemented with a fragrant Tabasco sauce (this is done immediately before use), or several toppings are served separately, and everyone can independently fill their tortilla with whatever they want. You can try tacos everywhere: both in a restaurant and in local fast foods.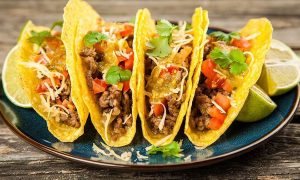 Tortilla
A simple round tortilla made from cornmeal is the basis for a huge number of Mexican dishes, such as tacos, burritos, fajitas. Such cakes are served instead of bread, they are also wrapped in various fillings, baked, fried, supplemented with sauces and seasonings. Interestingly, the Mexicans use tortillas instead of cutlery, for which they twist them into compact tubes.
Cook cakes right before use, so that they do not cool down and do not become stale. Today, in their manufacture, wheat flour is often added to corn flour, which makes the dish softer and at the same time preserves its taste.
Quesadilla
The basis for this dish is tortilla – a tortilla made from corn (or corn and wheat) flour. In the traditional version, it is stuffed with cheese, folded in half and fried on each side. Be sure to use chili pepper: it is he who makes this dish spicy and spicy. Quesadillas can be served in a different way, for this the filling is placed between two cakes, and then the dish is cut into pieces.
Today, quesadillas are prepared with a variety of fillings. Seafood, mushrooms, vegetables, guacamole, salsa, meat (chicken, beef, pork), greens can be added to the cheese.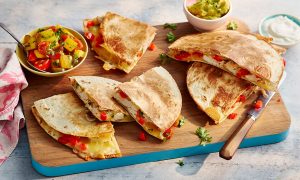 Fajitos (fajita)
As with many other Mexican dishes, fajitas are based on tortillas. Meat is wrapped in it, previously fried and cut into strips (it can be beef or chicken, pork). Vegetables, chili sauce, salsa, guacamole, cheese are added to the meat, sometimes seafood is used.
An interesting feature of fajitas is the method of serving: they put tortillas and separately fillings on the table, so everyone can fill the cake to their liking.
This dish is considered Mexican, but in fact it was originally invented in Texas.
Nachos
This national dish of Mexico is also made on the basis of tortilla. It is a savory appetizer that traditionally includes tortilla chips, chili peppers and melted cheese. In addition, seasonings, sauces, herbs, salads are added. To serve, the chips are either laid out on a dish and poured with sauce, or a dish with two compartments is used, in which the ingredients are placed separately.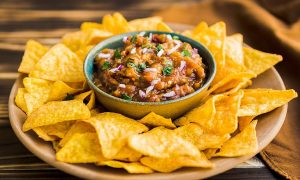 The history of this snack is interesting. The manager of the restaurant, Ignacio Nacho Anaya, came up with it at the moment when the wives of American soldiers came to his establishment. In the kitchen, he found only tortillas and cheese, but did not lose his head, but quickly cut the tortillas and made a new dish, seasoned with jalapeno pepper for piquancy.